Details:
Category:
Hydraulic Valves
| Published: 16 December 2014 | Hits: 1546
Hydraulic Valve - Directional Valve
Manual Directional Control Valve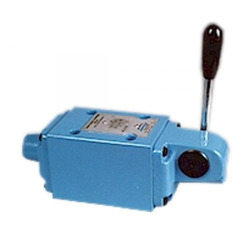 4DCVL10 Manual Direction Control Valves (DCVs) , Precision Control , Excellent Manufacturing Quality , for Hydraulic equipments
Specifications:
Construction: Spool type NG10(Cetop-03)
Mounting: Subplate body & Threaded Body
Mounting position: Optional
Flow direction: As per spool type
Hydraulic medium: Mineral oil
Viscosity range: 10 cSt to 380 cSt
Fluid temperature range: -20ºC to +70ºC
Fluid cleanliness requirement: ISO 4406 20/18/15 or better
Mass: 5.6 kg. APPROX
Hand Lever Directional Valve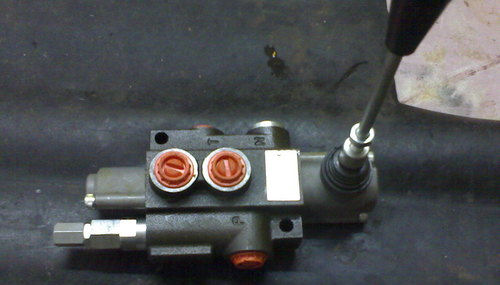 Directional Solenoid Valve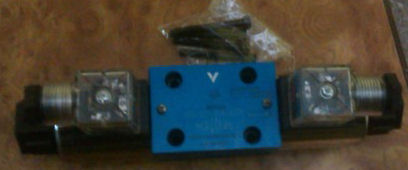 Product Specification
We offer good quality Solenoid Valve at very competitive price in Size NG-6(01-Cetop-03) in following coil voltage- 230V AC, 110V AC, 24V DC & 12V DC.
Available in Single & Double Coil.
Different Spool Configuration available
Poppet Valve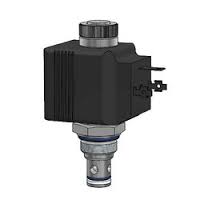 A solenoid-operated, 2-way, piloted, poppet-type, normally open, screw-in, hydraulic cartridge valve designed for low leakage in load-holding applications.
• Continuous-duty rated coil.
• Hardened seat for long life and low leakage.
• Optional coil voltages and terminations.
• Effi cient wet-armature construction.
• Cartridges are voltage interchangeable.
• Unitized, molded coil design.
• Manual override option.
• Optional waterproof E-Coils rated up to IP69K.
• Industry common cavity.
• Compact size.